José Mourinho has accused Chelsea boss Antonio Conte of humiliation after his counterpart was seen trying to arouse the supporters when the score between the two teams was 4-0.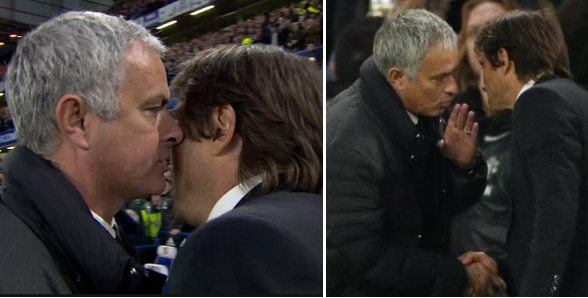 Manchester United suffered one of their heaviest defeat in the Premier League on Sunday when a brilliant Chelsea team completely demolished them from start to finish. Two goals in either half of the game also condemned Jose Mourinho to his heaviest defeat in the league, and it came at a place where he is still considered as a legend. United were never in the game apart from a 15 minute spell in the second half.
The win was of huge importance toConte, who has surprisingly been made as the bookies favourite to become the next manager to receive the sack. One of the reasons may be Chelsea's poor performances in both big matches they have played so far – against Arsenal and Liverpool. The team conceded five goals in these games and scored just one in reply.

Since then, Conte has changed the system to huge rewards. Switching to three at the back was a major factor in three consecutive wins, and United did not have any answers even with the world's most expensive player in the line-up.
Conte claimed after the match that there was no humiliation from his part. "I think that, today, it was right to call on our fans in a moment when I could only hear the supporters of Manchester United [singing] at 4-0. So I called the fans to give the players a great clap after this kind of performance. The players deserved that. We live with emotions. If you want to cut the emotions, we can stay at home and I will change job," said Conte. Tension reportedly spilled in the tunnel after the game following Mourinho's extended talk with Conte.